The Radix DM Client is the software installed on each user's computer which provides the Radix DM Grabber, Radix DM Save and Radix DM Search functions. Updated versions of the Radix DM Client are made available on the Download section of the Radix Support website from time to time. Using the shared network location example and notation used previously, the installation file for the Radix DM Client will be found at:
\\Sharednetworklocation\Programs\RadixDM\Installations\RadixDMClient2.0.X\setup.exe
The Radix DM client is installed in one of the two following ways:
The Radix DM Client can be installed as a Group Policy Object (GPO). This is the preferred option as the Radix DM Client is installed on all users' computers the next time they log in and no manual installation is required.
Alternatively, the Radix DM Client can be installed individually on each computer, as detailed below.
Run the executable program setup.exe as a System Administrator. Ensure that no Microsoft Office applications are running before running this installation.
After the introductory and License Agreement screens, you will be prompted for a location to install the client as per the following screen: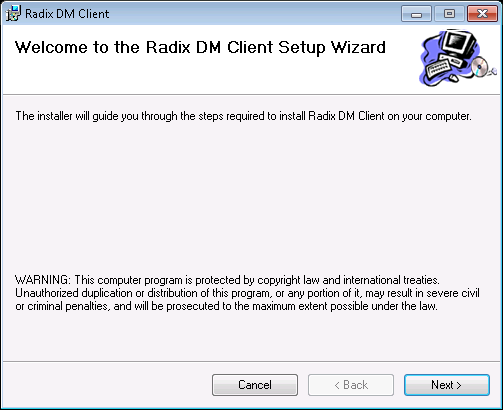 Change or retain details, then click Next. The Radix DM Client installation will then be complete. The installation should take one to two minutes depending on the speed of the network connection.
Start the program by selecting Start > Programs > Radix DM > Radix DM to ensure that the installation has completed successfully.
As part of the Radix DM Client installation only one Radix DM user will be automatically added to Radix DM, the Windows logon for the first user who installed the Radix DM Server. This user will need to log in to Radix DM Adminstration and add other users to Radix DM before those users can log in and use the program.